It was announced a couple of days ago that former WWE champion Alberto El Patron (know as Alberto Del Rio in WWE) will compete against MMA legend and former long time UFC light heavyweight champion Tito Ortiz. The fight is to take place later this year in a Mexican MMA promotion known as Combate Americas at a catchweight of 210 pounds. This fight has Gimmick written all over it. El Patron (42 years old), a pro wrestler has not competed since 2010 and Tito Ortiz (44 years old) has only two fights in the last three years, the latter being nothing short of a embarrassing, knocking out a brittle Chuck Liddel in the first round. It's safe to say that the only purpose for this fight is to draw eyeballs to the promotion and the outcome will be insignificant in its future.
However we've seen bare knuckle FC employ a similar tactic to this in the last few months, Malinaggi vs Lobov done a wonderful job in drumming up media interest and may be instrumental to the promotion carving out a slice of the market. As for Combate Americas their TV ratings are impressive for a relatively unknown company. With 400,000 viewers tuning into the last event (beating the UFC's ratings that weekend) they will be looking too to creep into the market in the states as two blockbuster American names go head to head.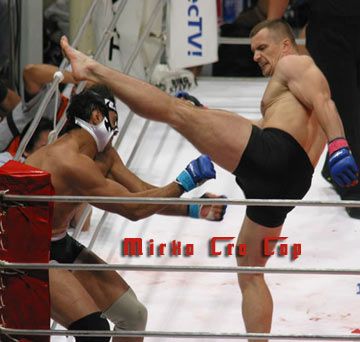 Although best known for his work in WWE, El Patron has competed in a number of promotions in Japan, Mexico and the states under a variety of Aliases. However perhaps not many have heard that he has competed in MMA before under the name Dos Carlos Jr. Amassing a 9-5 record as a pro mixed martial artist, his most notable fight was against the Croatian machine Mirko Cro Cop where he lost via first round TKO. He'll take on another legend in Tito Ortiz in what is one of the most bizarre announcements in MMA history.